Leicestershire Police
Leicestershire Police has a fairly compact area, taking in Leicester, its surrounding area and the county of Rutland.
The biggest hotspot is, predictably, Leicester itself, with much smaller hotspots around Loughborough and Market Harborough.
The central Leicester postcodes of LE1 and LE3 make up the two green-yellow spots that you'll see over Leicester itself. These two postcodes are Leicester Police's highest crime rate area. LE1 is central Leicester, taking in hotels, shops and a university campus. LE3 is out to the west; it's far more residential and also straddles the M1. Although these are the biggest car crime hotspots in Leicester, it should be noted that 873 crimes per 10,000 cars registered is fairly low compared to cities like Mancheter and Liverpool. You don't have to go far out of Leicester to see the crime rate drop dramatically: the lowest rate in the table below is for LE18.
Outside of the cities and large towns, car crime is thinly spread through the villages. However, Leicestershire Police has issued a warning that thieves have been targetting cars parked in rural locations, especially at Rutland Water Reservoir, which is to the east of the force's area. Leicestershire Police said: "Police in Rutland are issuing crime prevention advice to people who are planning to visit the idyllic county. Rutland is visited by tens of thousands of people each year, with Rutland Water attracting those wishing to enjoy the great outdoors with friends and family.
Over half of the crime committed, is not committed by local people. Local police are working with neighbouring police force Cambridgeshire Police to identify instances of cross-border criminality, committed by those who travel into Rutland to commit crime.
Rutland Local Policing Unit Commander, Inspector Lou Cordiner of Leicestershire Police, said: "Whilst Rutland is a low crime county, and a wonderful place to live and to visit, we'd encourage the visiting public to be active in reducing the chance for opportunist thieves to steal valuables from parked vehicles. Car radios, mobile phones, high-priced clothing, and hobbyist or sporting equipment is often targeted by the opportunist thief. If thieves cannot see goods to be stolen, they are less likely to risk breaking into a vehicle." This ties in with the hotspots on our map, with small concentrations around Oakham and Manton.
See also: Top 10 Cars Stolen to order / Top 10 Most Stolen Cars / Crime homepage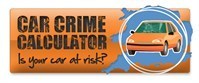 Crimes by type
Offence type
Offences per 10,000
registered vehicles
Theft from
66
Criminal Damage
63
Theft of
18
Total
146
Crimes by postcode
Postcode District
Offences per 10,000
registered vehicles
LE1
873
LE3
213
LE11
177
DE74
157
LE4
134
LE5
117
LE17
102
LE9
96
LE2
94
CV13
92
LE19
91
LE67
89
LE10
85
LE12
79
LE7
76
LE6
74
LE14
69
DE12
69
LE65
68
LE15
66
LE8
64
LE13
62
LE16
59
NG13
55
LE18
53