Nissan
Nissan scores well – the most vulnerable models in its table are old or they're commercial vehicles – nothing unusual. Micra C+C tops the table but take that result with a pinch of salt – if anyone commited a crime related to a Micra C+C it probably got reported against the regular Micra hatchback, which is mid table. The 200SX, however, is a little trickier to explain – it is a rare car, though.
See also: Top 10 Cars Stolen to order / Top 10 Most Stolen Cars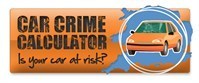 Crimes involving Nissan by type
Offence type
Offences per 10,000
registered vehicles
Criminal Damage
59
Theft from
52
Theft of
23
Interfering with
4
Other
1
Total
137
20.4% better than the national average.
Crimes involving Nissan by range
Range
Criminal Damage
Interfering with
Other
Theft from
Theft of
All offences
All figures are offences per 10,000 registered vehicles
Micra C+C
0
0
0
0
0
0
200SX
0
0
0
0
0
0
Almera Tino
7
0
0
3
2
12
X-Trail
15
0
0
17
2
34
GT-R
28
0
0
9
0
36
D22
4
0
0
30
15
49
Juke
25
1
1
22
4
51
NV200
27
7
4
27
2
64
350Z
30
6
0
30
6
68
Pixo
31
2
0
37
4
72
Pathfinder
26
0
2
41
9
74
Note
42
1
0
30
4
75
Qashqai
37
1
2
32
5
75
Patrol
26
5
5
26
20
83
Kubistar
18
0
0
70
11
97
Terrano
32
1
1
31
28
99
Murano
25
0
0
63
6
102
Navara
33
2
1
60
21
119
Vanette
19
2
2
58
44
132
Micra
62
4
0
45
22
133
Almera
71
3
1
52
16
142
Primastar
24
19
0
104
18
162
Primera
82
3
1
59
33
178
Cabstar
28
3
0
124
121
270
Serena
86
13
4
95
82
282
Interstar
20
51
0
213
30
327
Bluebird
24
24
0
16
316
391
Sunny
48
37
2
55
332
462