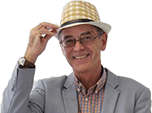 How To Contact Us & Who To Speak To
To Ask Honest John A Question
All questions are handled through Ask Honest John. Click here to get started.
Please note: unfortunately questions can not be answered by email or by phone.
You will need to be registered with the website to be able to ask your question and your question will not reach Honest John unless you use Ask HJ.
To Send Us A Press Release
If you work in PR and have a company, service or product that you think we may be interested in, please contact us at editor@honestjohn.co.uk. 
The address can also be used if you have a story that you think we may be interested in.
For Media Enquiries
Any media outlets wishing to contact us for comment should contact editor@honestjohn.co.uk or call 01733 667117.
For Advertising and Marketing Enquiries
For display advertising enquiries, or if you would like to receive our Media Pack, please contact our Commercial Manager, Kirsty Fitton, by emailing kirsty@honestjohn.co.uk. Alternatively, please speak to our Commercial Team on 01733 667106.
For marketing enquiries, please contact our Brand Manager, Kerry Craig, by emailing kerry.craig@honestjohn.co.uk, or call 01733 667121.

Please do not use these email addresses or telephone numbers to ask car-related or motoring questions. You will not get through to Honest John and your question will go unanswered. Please use the Ask Honest John facility to ensure that your question reaches him.
In the first instance, please email us through Ask Honest John.
If your Good Garage Guide query is urgent, please contact us by emailing garages@honestjohn.co.uk.
Posted Correspondence
Please address any correspondence to: HonestJohn.co.uk Ltd, Eaglethorpe Barns, Warmington, Peterborough PE8 6TJ