Suzuki
Suzuki's performance is held back only by the Supercarry and Carry vans, which are older vans and the last of which (the Carry) was discontinued in 2005. Add to that older models like the Baleno and Vitara pushing up the average and a relatively compact range and the overall picture for Suzuki is a rather skewed. 
It's a tale of two halves with the older models not doing very well and the modern cars - such as Splash and SX-4 - appearing in the least likely to be stolen list. Indeed if it wasn't for the Carry van, Suzuki wouldn't appear in our most likely to be stolen list at all.
However, it is possible some crimes that actually relate to the Grand Vitara are wrongly recorded by the police against plain 'Vitara' in databases, which can slightly inflate the crime rate for the Vitara and slightly reduce it for the Grand Vitara. 
See also: Top 10 Cars Stolen to order / Top 10 Most Stolen Cars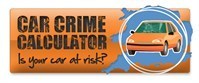 Crimes involving Suzuki by type
Offence type
Offences per 10,000
registered vehicles
Theft of
93
Criminal Damage
54
Theft from
47
Interfering with
5
Other
2
Total
195
13.4% worse than the national average.
Crimes involving Suzuki by range
Range
Criminal Damage
Interfering with
Other
Theft from
Theft of
All offences
All figures are offences per 10,000 registered vehicles
SX4
12
1
0
10
0
24
Splash
20
0
0
10
0
27
Grand Vitara
12
1
0
12
4
28
Wagon-R+
19
1
0
11
0
30
Jimny
22
2
1
20
9
55
Liana
29
0
0
20
4
58
Ignis
43
1
0
32
4
79
Alto
56
3
1
42
7
109
Swift
55
2
0
48
6
110
Baleno
61
5
0
61
19
133
Vitara
82
5
1
97
58
246
Carry
26
24
1
60
330
408