Fiat
The crime rate for Fiat is higher than average, but owners of Fiat cars needn't panic – there are numerous vans in the Fiat range. They attract thieves because they're often full of goodies like tools and electric goods, which are easy to sell on.
The Marea might come as a surprise, with its inflated crime rate – but there are very few on the road and consequently the average rate is a little skewed. If 100 incidents of crime are recorded and there are only 120 of the car on the road the relative rate is far higher than if there 1000 incidents of crime related to a car of which there are 100,000 on the road.
See also: Top 10 Cars Stolen to order / Top 10 Most Stolen Cars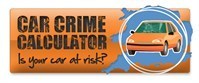 Crimes involving FIAT by type
Offence type
Offences per 10,000
registered vehicles
Theft from
84
Criminal Damage
75
Theft of
18
Interfering with
5
Other
1
Total
184
6.5% worse than the national average.
Crimes involving FIAT by range
Range
Criminal Damage
Interfering with
Other
Theft from
Theft of
All offences
All figures are offences per 10,000 registered vehicles
Qubo
6
0
0
0
6
27
Sedici
13
0
6
13
0
30
Coupe
23
0
0
11
11
63
Idea
25
0
0
36
5
66
Panda
44
1
0
26
4
74
500
46
3
0
30
17
93
Fiorino
21
7
0
79
7
112
Ulysse
48
3
0
45
9
113
Bravo
66
2
1
48
17
132
Seicento
72
4
1
48
17
143
Stilo
70
2
1
53
20
144
Brava
77
3
0
46
25
151
Doblo
43
8
0
100
9
157
Ducato
23
5
1
124
17
165
Multipla
76
2
0
65
22
166
Punto
83
6
1
83
17
192
Scudo
55
12
2
141
14
227
Marea
186
10
0
117
49
374