Jaguar
Jaguar owners will be pleased to hear that the crime rate for cars from the British marque is relatively low. The brand produces luxury and executive cars, which tend to have a higher level of security equipment as standard, which works as a great deterrent. The older cars are more susceptible to crime, but even then their relative crime rate is fairly low. 
See also: Top 10 Cars Stolen to order / Top 10 Most Stolen Cars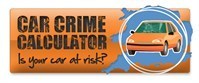 Crimes involving Jaguar by type
Offence type
Offences per 10,000
registered vehicles
Criminal Damage
36
Theft from
23
Theft of
7
Other
1
Interfering with
1
Total
67
61.0% better than the national average.
Crimes involving Jaguar by range
Range
Criminal Damage
Interfering with
Other
Theft from
Theft of
All offences
All figures are offences per 10,000 registered vehicles
E-Type
3
0
0
5
8
14
XKR
16
1
0
12
1
28
XF
17
0
2
8
4
30
XJ-S
20
2
0
7
4
31
XK8
16
0
1
12
3
32
XJ6
20
0
1
15
11
47
XJ8
19
0
0
21
10
49
X-Type
30
1
1
20
5
56
XJ
33
1
0
26
6
63
S-Type
38
1
0
29
7
73