Volkswagen
The Golf Plus at the top of the table is possibly an unreliable entry – chances are the majority of crimes involving that model were recorded in the stats for standard Golf. The Up was launched part way through the year our data covers, too, so its stats might not be fully representative of the cars performance now it is established. The rest of the table is as you'd expect, with older models and vans at the bottom of the table.
The popular Golf is the poorest performing car from Volkswagen, but it isn't an especially bad performer compared to vehicles from other manufacturers and its crime rate will be pushed up by older, less secure vehicles which are still around in their hundreds. 
See also: Top 10 Cars Stolen to order / Top 10 Most Stolen Cars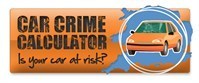 Crimes involving Volkswagen by type
Offence type
Offences per 10,000
registered vehicles
Theft from
61
Criminal Damage
56
Theft of
18
Interfering with
3
Other
1
Total
136
20.8% better than the national average.
Crimes involving Volkswagen by range
Range
Criminal Damage
Interfering with
Other
Theft from
Theft of
All offences
All figures are offences per 10,000 registered vehicles
Golf Plus
5
0
0
3
2
11
Up
24
0
0
10
0
32
Tiguan
21
1
1
28
2
52
Caravelle
18
3
1
37
11
68
Eos
33
0
0
28
7
68
Touareg
24
2
1
34
10
70
Phaeton
38
0
9
19
9
71
Corrado
16
4
4
41
12
76
Fox
43
2
1
31
2
79
Jetta
39
1
1
30
9
80
Beetle
46
2
0
35
9
93
Scirocco
38
1
4
35
17
93
Passat
45
1
1
47
10
102
Bora
43
1
0
44
10
102
Touran
51
0
0
44
9
102
LT
15
3
0
59
31
107
Lupo
55
3
0
46
9
114
Polo
53
3
1
52
13
120
Caddy
41
3
1
72
13
128
Golf
52
3
1
57
19
131
Crafter
30
9
0
90
29
153
Sharan
75
6
1
105
54
234
Transporter
63
8
1
141
28
237