Mazda
The worst car in Mazda's table is the 121, a rare vehicle that in its most common form is actually a badge engineered Fiesta. Its crime rate is substantially higher per 10,000 vehicles than any other Mazda, which is a pretty good sign for Mazda owners. The MX-3 is the only other car in the Mazda list with an above average crime rate and it's both old and rare. 
See also: Top 10 Cars Stolen to order / Top 10 Most Stolen Cars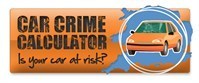 Crimes involving Mazda by type
Offence type
Offences per 10,000
registered vehicles
Criminal Damage
47
Theft from
36
Theft of
11
Interfering with
2
Other
1
Total
96
44.1% better than the national average.
Crimes involving Mazda by range
Range
Criminal Damage
Interfering with
Other
Theft from
Theft of
All offences
All figures are offences per 10,000 registered vehicles
CX-7
22
0
0
11
0
31
BT-50
0
0
0
49
0
46
2
28
1
1
17
4
50
3
32
0
2
19
3
55
5
22
0
1
29
5
56
Tribute
31
0
0
23
0
57
MX-5
35
2
1
25
4
66
Premacy
37
0
0
34
2
70
Demio
30
4
0
26
11
72
6
39
0
1
31
7
78
B2500
12
0
6
58
12
84
E2200
0
8
0
63
32
96
626
40
3
0
33
17
96
RX-7
28
0
0
57
19
97
323
52
4
0
39
20
114
RX-8
57
0
2
29
30
115
MX-3
34
0
0
61
54
165
121
118
0
0
59
76
259