Mazda 6 Tourer (2012 – 2022) Review
Mazda 6 Tourer (2012 – 2022) At A Glance
The Mazda 6 Tourer is the Japanese brand's mid-sized estate car competitor, designed to take on key rivals like the Ford Mondeo Estate, the Vauxhall Insignia Sports Tourer and the Volkswagen Passat Estate. Mazda has already enjoyed success with the saloon version of the 6, which combines a pretty exterior and strong driving dynamics with good value, and the Tourer version builds on this combination.
It might be more practical than the saloon but it retains that car's impressive driving dynamics - it's certainly an estate for buyers who still want to enjoy driving. Add to that the good specification and a quality interior, and the 6 Tourer has a broad appeal.
The Mazda 6 Tourer is exactly what you would expect from Mazda, who have been on something of a roll for several years, producing a sequence of impressive products.
The higher roofline means back row space is better in the Tourer than the saloon, with ample head and legroom even for adult occupants.
The boot has a volume of 506 litres, with a nice wide hatch and a flat floor, making it ideal for getting bulky items like pushchairs in and out. Folding the seats down frees up 1632 litres of space, which is competitive if not quite up there with the best in the class.
Inside the 6 Tourer continues to impress, with an attractive interior design and a good specification. There's an easy-to-operate infotainment system and a low-key dashboard design that's also finished in attractive materials; it might not match those of the Volkswagen Passat but it's close enough to not make a massive difference.
The engine range is straightforward, with either a 2.0-litre petrol or 2.2-litre diesel on offer, although unlike much of the competition the 6 Tourer isn't available with a turbocharged petrol or hybrid powertrain.
The 2.0-litre petrol is available with 145PS or 165PS, while the diesel is offered with outputs of 150PS or 175PS. The petrol versions are capable and fairly economical and, in practice, there is little difference between the two diesel variants.
We'd recommend the 150PS diesel option for most buyers. At the top of the range is a 2.5-litre petrol, and while it offers more power and performance it is more expensive to buy and to fuel, and is not really worth the extra outlay.
To drive, the 150PS diesel is flexible and capable, with a broad spread of torque giving good performance on the road – yet it's also economical. Official figures are 67.3mpg and while that might not be feasible in real world driving, fuel bills should still be very small for such a large and practical car.
The 6, whether in saloon or estate form, is a great car to drive, with precise, well-weighted steering, a satisfying gear change and a sense of nimbleness that belies the car's size. The Mondeo might have been the most enjoyable driver's car in its class in the past, but the Mazda6 has probably taken the crown now.
But competition is stiff. The Ford Mondeo matches the Mazda 6 in every key area, while the Volkswagen Passat Estate is more refined, has a more spacious and versatile load area. But the Mazda 6 Tourer is certainly worth a look – it's practical, well-made cabin, stylish looks and excellent driving capabilities make it very appealing indeed.
What do owners think of the Mazda 6 Tourer (2012 – 2022)? Check out our
Owners' Reviews
from people who live with the car day in, day out.
Reviews for Mazda 6 Tourer (2012 – 2022)'s top 3 rivals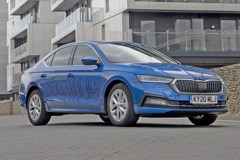 Skoda Octavia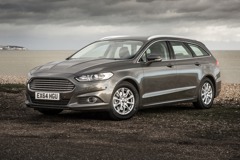 Ford Mondeo Estate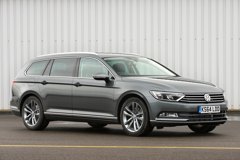 Volkswagen Passat
Ask Honest John
What's the best petrol estate for £10,000?
"I am keen to buy a mid to large petrol estate, good to drive, room for four adults and gear. I do 5k to 8k miles a year - mixed town and country and want something with a perky modern and economical engine. Would a Mondeo 1.5T EcoBoost do? Or something else to consider? I can spend around £10k."
A Mondeo sounds like a reasonable choice if you can find a petrol one. Our money would go on a Mazda 6 but test drive one first - its 2.0-litre petrol engine might not appeal if you're after a small, turbocharged unit. Also consider a Honda Civic Estate - it's smaller but very practical and should be reliable.
What estate cars have a large, long boot when the seats are folded flat or removed?
"What estate cars have a large, long boot when the seats are folded flat or removed? "
Estate versions of the Mazda 6, Vauxhall Insignia, Ford Mondeo and Skoda Superb all have huge boots with the rear seats dropped.
What's the best used petrol estate for £10k?
"I need an estate for my family and dog but driving short journeys probably means petrol. I'm looking for advice with roughly £10-11k to spend. There are very few available but I found a Ford Mondeo 1.5 litre and Mazda 6. Any other options you would recommend or any advice on either of the above option would be greatly appreciated. "
You're right to search for a petrol for short journeys but, as you're finding, most buyers of new cars of this size are high-mileage company car drivers, so there aren't many second-hand petrol examples on the market. A Mazda 6 is a good option, as is the Mondeo. I'd also look at the Honda Civic - it's smaller than the Ford and Mazda, but it has a bigger boot. There are more about, too, and it will be very reliable.
Why does the power steering on my wife's Mazda 6 fail when she starts the car?
"My wife's Mazda 6 Tourer has had the power steering fail, which happens after she starts the engine and can only be resolved by restarting the car. Have you heard of other owners with the same problems. Large steering input seems to be a factor."
Full lock on any car with power steering soon after starting the engine is likely to cause problems. Best not to use full lock at all, especially from cold. Always wind a bit of lock back on after hitting the stops.
More Questions
What does a Mazda 6 Tourer (2012 – 2022) cost?