Staffordshire Police 
Staffordshire Police covers a varied patch, which stretches from Tamworth in the south and follows the M6 up to Stoke-on-Trent in the north.
Overall crime is above the national average, with 160 offences per 10,000 registered cars. Criminal damage accounts for more than 50 per cent of all offences, while theft from a motor vehicle makes up 36 per cent of incidents. Just one in ten car crimes involves the theft of a vehicle.
Stoke-on-Trent experienced the biggest hotspots when it comes to car crime, with the city's ST6 postcode being the worst region with 189 offences per 10,000 cars. Handley also experienced a spike in vehicle crime in 2011-2012, with 172 comparative incidents.
Burton-on-Trent experienced 109 car crimes per 10,000 vehicles, making it the worst town for crime in the whole of Staffordshire. The safest district was the postcode CW3, just outside Crewe, with a mere 17 offences.
Cars at risk include Mitsubishi (273 offences) Fiat (244 offences) and Suzuki (180 offences). The safest make of car in Staffordshire was Chevrolet, with just 47 reported crimes.
See also: Top 10 Cars Stolen to order / Top 10 Most Stolen Cars / Crime homepage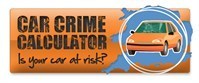 Crimes by type
Offence type
Offences per 10,000
registered vehicles
Criminal Damage
81
Theft from
58
Theft of
21
Total
160
Crimes by postcode
Postcode District
Offences per 10,000
registered vehicles
ST6
189
ST1
172
ST4
115
DE14
109
WV6
99
ST2
98
DY7
92
ST5
86
B79
82
DE15
81
ST3
80
ST16
72
WS13
70
WV9
70
DE13
68
ST19
68
WS12
65
WS11
64
WS6
64
B77
63
WS14
61
WS7
60
WV5
59
ST7
59
ST17
58
B78
58
ST8
58
ST13
56
ST15
45
WS15
44
WV8
44
ST10
43
TF9
42
ST21
41
ST9
35
ST20
32
ST11
31
ST14
29
ST18
22
ST12
21
CW3
17