West Mercia Police 
Boasting one of the lowest car crime rates (as a police force area) in England, West Mercia recorded an average of 76 offences per 10,000 registered vehicles, which makes it 37 per cent safer than the national average.
The region's worst area for car crime is found on the outskirts of Birmingham; the postcode B45 experienced 202 offences per 10,000 cars. The second worst postcode is WR1, in Worcester, with 193 comparative offences.
Criminal damage accounts for a whopping 75 per cent of all car crime in West Mercia, while 19 per cent of offences involve the theft of a vehicle. Theft from a car is relatively low, accounting for just six per cent of incidents.
The village of Albrighton is the safest, with 13 offences, while Telford also ranked highly with one of its districts experiencing 21 car crimes per 10,000 cars.
Cars most attacked include Suzuki, Mitsubishi and Vauxhall, while Lexus was the safest with just 14 recorded incidents. 
See also: Top 10 Cars Stolen to order / Top 10 Most Stolen Cars / Crime homepage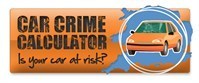 Crimes by type
Offence type
Offences per 10,000
registered vehicles
Criminal Damage
57
Theft of
15
Theft from
4
Other
0
Total
76
Crimes by postcode
Postcode District
Offences per 10,000
registered vehicles
B45
202
WR1
193
DY13
157
TF7
131
TF3
129
WR4
128
DY11
118
TF2
113
TF11
112
DY10
108
TF4
108
DY9
108
TF1
98
WR9
96
WR12
93
B98
90
B47
87
WR11
85
WR10
83
WV15
82
DY12
81
SY3
77
HR9
76
HR6
76
WR3
75
B60
75
B97
73
TF8
70
SY11
69
HR8
67
B48
65
SY8
64
WV16
63
WR2
63
B61
61
HR4
59
WR14
57
WR5
56
WR8
52
HR7
52
HR2
51
SY13
51
HR5
48
HR1
48
WR13
47
SY2
47
TF13
45
SY9
44
TF10
43
WR7
42
TF9
42
SY1
38
B96
37
DY14
34
TF12
34
HR3
32
SY6
31
SY5
30
WR6
30
SY12
29
SY4
28
TF6
26
SY10
26
WR15
26
TF5
21
SY7
19
WV7
13