Citroen
The overall crime rate for Citroen is a ever so slightly worse than the national average. That's easily attributable to one factor – vans. Citroen produces plenty of vans and they typically have high rates of 'theft from' because they're used to transport valuable items like tools, equipment and electronics – easy targets for thieves.
The Berlingo Multispace and Nemo Multispace don't appear in the list, they have been combined with Berlingo and Nemo van entries. This is down to the possibility of human error – police officers and even owners of those vehicles would more than likely call them simply 'Berlingo' or 'Nemo.' If we left them as separate models the Multispace variants would have incorrectly low crime rates.
However, with the Xsara Picasso being fairly distinct compared to the regular Xsara hatchback, we haven't combined them into one entry. But there is a possibility of confusion with the two and consequently the crime rate for the Xsara Picasso at the top of the table should be taken with a pinch of salt. 
See also: Top 10 Cars Stolen to order / Top 10 Most Stolen Cars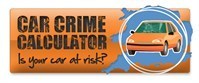 Crimes involving Citroen by type
Offence type
Offences per 10,000
registered vehicles
Theft from
86
Criminal Damage
69
Theft of
13
Interfering with
6
Other
1
Total
172
0.1% worse than the national average.
Crimes involving Citroen by range
Range
Criminal Damage
Interfering with
Other
Theft from
Theft of
All offences
All figures are offences per 10,000 registered vehicles
Grand C4 Picasso
4
0
1
6
1
15
Xsara Picasso
9
0
0
9
1
20
C-Crosser
14
0
0
14
0
26
DS4
6
0
11
6
6
26
DS3
30
1
2
21
7
59
2CV
35
0
0
17
21
68
C3
49
1
1
31
5
86
C4
50
1
1
39
5
95
C1
46
3
0
45
6
99
Nemo
25
8
3
66
3
101
Synergie
59
0
0
34
17
106
C5
58
2
0
44
7
112
Xantia
66
0
1
38
13
117
C2
65
1
0
48
7
118
ZX
64
11
0
42
28
141
Berlingo
43
10
1
106
13
169
AX
44
19
0
68
49
178
C8
45
0
0
123
27
182
C15
76
14
0
72
43
207
Dispatch
41
22
1
153
14
225
Saxo
129
9
1
138
27
307
Xsara
160
8
2
147
32
339
Relay
45
15
2
280
30
365