Audi
There are lots of Audis on the UK roads – and a lot of different models in the range. When there are lots of models or variants of models a problem appears in the data and it's all down to human error when the data is collected by the police. Take the A4 Allroad and A6 Allroad at the top of the table – they have very low rates of crime recorded against them, but that could be simply because crime involving those models was grouped under A4 or A6, respectively. Both of those models are further down the table.
Audi has a slightly lower than average overall crime rate, probably because most of its models are prestigious, high end cars that tend to have better security equipment than old bangers or less expensive models. That said, some of its models have crime rates slightly higher than the national average, including Q7, S3 and RS4.
There are a few things to be aware of however - top of the table, and so with low crime rates, are the A4 Allroad, Q3 and A6 Allroad models. It's feasible that crimes against the Allroad models are recorded against the regular A4 and A6, which would artificially lower the Allroad crime rates in the table. Additionally the Q3 was launched midway into the year our data covers, so very few were around.  
See also: Top 10 Cars Stolen to order / Top 10 Most Stolen Cars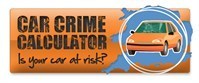 Crimes involving Audi by type
Offence type
Offences per 10,000
registered vehicles
Theft from
48
Criminal Damage
47
Theft of
15
Other
2
Interfering with
1
Total
113
34.4% better than the national average.
Crimes involving Audi by range
Range
Criminal Damage
Interfering with
Other
Theft from
Theft of
All offences
All figures are offences per 10,000 registered vehicles
A4 Allroad
7
0
0
7
0
13
Q3
3
0
0
15
0
17
A6 Allroad
2
0
0
13
4
17
A1
20
0
1
14
4
40
R8
21
0
0
14
21
54
Q5
23
0
2
42
6
71
A7
29
0
0
45
4
73
A8
22
0
3
45
19
83
A5
35
1
2
37
10
84
A6
38
1
1
45
11
93
S5
49
0
0
34
15
96
S4
44
0
13
31
15
97
A4
41
1
1
43
12
99
A2
43
2
2
39
17
102
TT
48
2
1
37
14
102
100
39
0
0
23
47
111
A3
46
1
1
49
14
112
80
45
2
2
32
30
112
RS6
0
10
10
52
42
118
Q7
38
5
1
56
30
127
S3
55
0
6
56
33
149
RS4
38
5
19
67
29
154