Volvo
Excepting the XC90, the only models at the bottom of the Volvo table are old and rare now and even then they all have below average crime rates. The rest of the Volvo range does very well indeed. Chances are more recent Volvo models have good security equipment, and criminals aren't that interested in them. 
See also: Top 10 Cars Stolen to order / Top 10 Most Stolen Cars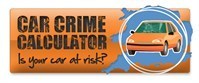 Crimes involving Volvo by type
Offence type
Offences per 10,000
registered vehicles
Theft from
59
Criminal Damage
52
Theft of
12
Interfering with
2
Other
1
Total
126
27.1% better than the national average.
Crimes involving Volvo by range
Range
Criminal Damage
Interfering with
Other
Theft from
Theft of
All offences
All figures are offences per 10,000 registered vehicles
V60
11
0
0
9
2
24
C30
23
0
1
15
2
39
XC70
17
0
0
22
2
40
XC60
16
0
0
25
3
43
V50
20
0
0
27
2
48
C70
32
0
1
14
5
54
V70
24
2
0
25
6
56
S60
27
1
2
27
7
64
740
28
3
0
22
11
64
S80
30
1
2
19
14
66
V40
30
1
0
29
6
69
960
21
0
0
21
36
73
940
41
0
0
24
14
75
S40
38
2
1
26
11
79
S70
48
0
0
9
26
81
240
17
0
3
17
40
83
440
13
3
0
25
41
86
850
34
2
0
40
29
100
XC90
44
2
1
59
7
107
340
9
27
0
45
27
108