Mitsubishi
There are a few anomalies to look at with Mitsubishi before going into the details. First of all, there are lots of names for the Shogun - including Shogun Sport and Shogun Pinin, so we've combined them all to make one entry. It's also possible that Pajero and Shogun crimes are confused because the Pajero is an import version of the Shogun, muddying waters a little - that might explain the appearance of the Pajero at the bottom of this list. 
That said, the names are quite distinct. The Pajero isn't particularly common in the UK but it is a vulnerable vehicle – cars originally designed for the Japanese market don't have such a high level of security gear, making them vulnerable when imported to the UK. That's not really Mitsubishi's fault. In further defence of the Japanese brand, if you look at a modern model like the Outlander the crime rate is lower than average. Mitsubishi also sells a lot of off-roaders, which tend to have a longer lifespan than standard hatchbacks so there are numerous old and insecure examples around.
See also: Top 10 Cars Stolen to order / Top 10 Most Stolen Cars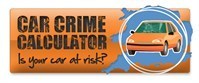 Crimes involving Mitsubishi by type
Offence type
Offences per 10,000
registered vehicles
Theft from
100
Criminal Damage
64
Theft of
42
Interfering with
4
Other
1
Total
209
21.5% worse than the national average.
Crimes involving Mitsubishi by range
Range
Criminal Damage
Interfering with
Other
Theft from
Theft of
All offences
All figures are offences per 10,000 registered vehicles
Lancer Evo
11
0
0
5
0
15
ASX
8
0
0
3
0
17
Outlander
29
0
1
35
4
71
Grandis
36
0
0
51
10
90
Space Star
44
7
0
35
11
106
Galant
45
0
0
61
16
115
Lancer
59
0
1
51
17
129
L200
28
2
1
82
27
137
Carisma
73
1
0
49
17
142
Shogun
36
4
0
84
31
153
Space Wagon
59
4
0
70
78
204
Canter
25
4
4
156
72
249
Colt
141
7
2
110
28
281
Pajero
332
45
0
386
647
1351