Gloucestershire Constabulary
Spanning much of the south west, Gloucestershire has a number of large population districts, including the city of Gloucester, and the towns of Cheltenham, Cirencester, Stroud and Tewkesbury.
One of the safest areas in the whole of England and Wales, Gloucestershire has a low average car crime rate of just 78 offences per 10,000 cars, but does have a few hotspots in Gloucester and Cheltenham, with both town centres showing the region's biggest results for car crime. GL50 in Cheltenham's town centre is the worst area with 165 offences per 10,000 cars, while Gloucester does somewhat better with 90 comparable offences. The safest area in the county is Tetbury, with just 14 crimes per 10,000 cars.
Criminal damage accounts for 76 per cent of all offences, while just 17 per cent of crimes involved a theft of a motor vehicle.
Suzuki, Mercedes-Benz and Vauxhall were the most targeted vehicles in Gloucestershire, with car crime peaking at 100 offences per 10,000 vehicles. The safest vehicles for the region are MG and Skoda.
Gloucestershire Constabulary takes a proactive approach to car crime and offers free factsheets to the public, which provide advice and tips to stay protected from criminal offences. 
See also: Top 10 Cars Stolen to order / Top 10 Most Stolen Cars / Crime homepage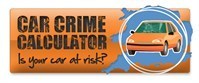 Crimes by type
Offence type
Offences per 10,000
registered vehicles
Criminal Damage
59
Theft of
13
Theft from
5
Total
78
Crimes by postcode
Postcode District
Offences per 10,000
registered vehicles
GL50
165
GL1
119
GL51
108
WR12
93
GL4
90
GL18
87
GL5
81
GL2
80
GL19
75
GL15
64
GL55
62
GL3
60
GL13
60
GL52
54
GL53
52
GL7
52
NP16
49
GL14
49
GL11
47
GL20
47
GL10
45
GL56
45
GL17
44
GL16
43
GL6
42
GL54
34
GL12
22
GL8
14