Avon and Somerset Constabulary
Avon and Somerset Constabulary's patch covers a wide area, taking in Bristol, Bath, Taunton, Bridgwater, Yeovil, Frome and many rural areas including the Exmoor national park.
As you can see from the hotspots on the map, it's Bristol that's the biggest area for car crime, dwarfing the other cities and large towns. The city centre postcode of BS1 has the highest rate of any postcode in Avon and Somerset, with 570 crimes reported for every 10,000 cars registered. The postcode is at the heart of the city, taking in Bristol Temple Meads station, a range of hotels and bars and many waterfront areas.
It has more than double the amount of reported crime as the nest postcode area, which is BS8 and takes in Clifton and the other side of the Avon river. 
The first 12 postcodes in the table are Bristol BS. BS16 is noteworthy as with 101,978 cars resistered, it's the fifth highest number of cars in the UK.
Nearby Bath is the second largest hotspot, but pales into significance comapred to Bristol. The city centre BA1 postcode sees 103 crimes for every 10,000 registered cars, but doesn't appear until about a third of the way down the table. It's behind TA1 and TA6, too, the two highest ranking postcodes for the Taunton area. Again TA1 is a town centre location and as such sees a concentration of people and associated crime. 
Car owners in TA23 are the safest in the area, with 19 crimes per 10,000 cars, but it should be remembered that a large proportion of this postcode is in Exmoor National Park. The rural location of BA7, just outside Glastonbury, matches its figure, but with it's entire postcode in an in habitable area.
See also: Top 10 Cars Stolen to order / Top 10 Most Stolen Cars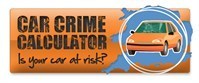 Crimes by type
Offence type
Offences per 10,000
registered vehicles
Theft from
71
Theft of
22
Total
93
Crimes by postcode
Postcode District
Offences per 10,000
registered vehicles
BS1
570
BS8
260
BS6
251
BS3
209
BS5
172
BS10
161
BS2
157
BS11
154
BS4
146
BS23
145
BS7
137
BS14
118
TA1
112
BS29
111
BS34
108
TA6
107
BS13
107
BA1
103
BS15
97
TA18
92
BS41
92
BS9
91
BS27
84
TA15
82
TA14
82
BA11
76
BA6
72
TA2
71
BA21
71
BS30
70
BA2
61
BS21
56
BS40
56
BS35
54
BS31
54
BS25
53
TA8
51
BS37
51
BA20
50
TA10
50
BS22
50
TA13
49
BA4
49
BS49
47
BS32
47
BS20
45
BS39
45
BS16
44
TA21
44
BS48
43
BA5
43
TA22
43
TA24
43
TA16
42
BS24
40
TA11
39
BS28
39
TA3
39
BA8
37
GL9
37
BS36
36
TA20
36
TA9
35
TA19
35
TA12
34
BA9
33
BA3
32
BS26
31
TA5
31
BA22
29
BA10
27
BA16
27
TA4
24
GL12
22
TA17
21
TA7
21
BA7
19
TA23
19