Chrysler
None of Chysler's models sell very well in the UK. The Sebring is very rare, which probably explains the lack of crime related to it, and it's the same story for more or less everything in the list. The Neon is an older model that lacks the best security gear, so it's fairly vulnerable to opportunists. It's possible some of the crime related to Grand Voyager models was recorded in databases against the regular Voyager, which might slightly inflate the relative crime rate of the Voyager versus the Grand Voyager – but they're pretty close together in the table regardless. 
See also: Top 10 Cars Stolen to order / Top 10 Most Stolen Cars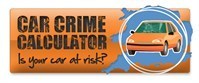 Crimes involving Chrysler by type
Offence type
Offences per 10,000
registered vehicles
Criminal Damage
69
Theft from
50
Theft of
16
Interfering with
3
Other
0
Total
135
21.7% better than the national average.
Crimes involving Chrysler by range
Range
Criminal Damage
Interfering with
Other
Theft from
Theft of
All offences
All figures are offences per 10,000 registered vehicles
Sebring
0
0
0
0
0
0
Ypsilon
15
0
0
0
0
14
PT Cruiser
16
0
0
20
1
35
300C
20
2
2
15
5
41
Crossfire
26
4
0
15
11
52
Grand Voyager
23
4
0
23
7
54
Neon
69
0
0
27
24
117
Voyager
105
1
0
79
20
200