LDV
This van manufacturer makes no cars, and that's why it has a worse than average crime rate. Vans and other commercial vehicles are targeted by criminals because they tend to carry valuable goods. Looking at the columns shows 'theft from' as the most common crime related to all LDV models. 
See also: Top 10 Cars Stolen to order / Top 10 Most Stolen Cars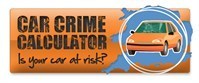 Crimes involving LDV by type
Offence type
Offences per 10,000
registered vehicles
Theft from
122
Criminal Damage
46
Theft of
45
Interfering with
6
Other
1
Total
224
30.2% worse than the national average.
Crimes involving LDV by range
Range
Criminal Damage
Interfering with
Other
Theft from
Theft of
All offences
All figures are offences per 10,000 registered vehicles
Pilot
10
3
0
42
0
57
Convoy
16
2
0
28
17
67
Cub
0
6
0
51
28
96
Maxus
20
4
1
97
17
141