Wiltshire Police
The patch of Wiltshire Police covers a scattering of towns and rural districts.
The county's biggest hotspots are predominantly found in Swindon, with its two central postcodes – SN1 and SN2 – recording 241 and 171 respective crimes per 10,000 registered vehicles. The rural village of Broad Blunsdon also ranks in the county's top three places for car crime, with 149 comparative offences, although this is somewhat inflated due to the fact the village has a low number of registered cars.
Theft from a motor vehicle and criminal damage accounts for roughly 90 per cent all offences, with just nine per cent of incidents involving a being stolen.
Wiltshire's safest area is found to the north of Swindon, in the small village or Purton. The village's postcode recorded just 15 offences, while nearby Malmesbury also ranked well with 27 incidents taking place per 10,000 cars. 
A lack of detailed data means we are unable to display the crime rates by manufacturer for the Wiltshire Police area.
See also: Top 10 Cars Stolen to order / Top 10 Most Stolen Cars / Crime homepage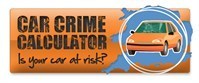 Crimes by type
Offence type
Offences per 10,000
registered vehicles
Theft from
60
Criminal Damage
57
Theft of
11
Other
0
Total
128
Crimes by postcode
Postcode District
Offences per 10,000
registered vehicles
SN1
241
SN2
171
SN26
149
SN3
135
SP1
127
SN8
108
SP2
105
BA15
104
BA14
74
BA13
73
SN25
69
SN12
65
BA12
62
SP4
61
SN14
59
SP5
53
SN9
51
SP7
50
SP9
48
SP3
46
SN15
45
SN4
44
SN13
44
SN11
43
SN10
36
SN6
35
SN16
27
SN5
15