Dorset Police 
Situated in the south west of England, Dorset is a rural county, with a handful of towns. The largest areas of population include Bournemouth, Dorchester and Weymouth.
The HonestJohn.co.uk Car Crime Census only received limited data relating to car crime in this region, and there's no details relating to the crime average or which make of cars were targeted. However, the data we did receive shows a high rate of vehicle crime in Bournemouth.
The postcode BH2, in the centre of Bournemouth, was the worst hit area with 596 crimes per 10,000 registered cars, while BH1 also fared badly with 375 comparable offences. According to our crime map, Bournemouth shows a hive of criminal activity with the town centre and Boscombe being the worst areas.
Pool also shows above average car crime, with the Branksome Park district recording 165 crimes per 10,000 cars.
The safest area of Dorset is found in Sherborne; the small market town recorded just 19 car crimes per 10,000 registered cars. 
See also: Top 10 Cars Stolen to order / Top 10 Most Stolen Cars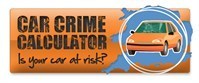 Crimes by postcode
Postcode District
Offences per 10,000
registered vehicles
BH2
596
BH1
375
BH7
230
BH5
220
BH6
219
BH4
187
BH8
177
BH13
165
BH15
164
BH12
159
BH17
159
BH16
156
BH3
150
BH14
143
BH9
131
BH11
115
BH10
97
BH23
85
DT3
83
BH20
83
DT4
76
DT1
73
DT5
68
BH24
59
DT6
58
BH21
57
DT11
54
SP7
50
BH22
49
BH18
46
DT7
41
SP8
39
DT2
38
BH31
32
BH19
32
DT8
30
DT10
27
DT9
19