Hampshire Constabulary
Hampshire Constabulary covers an area that predominantly rural, with both the New Forest National Park and South Downs within its boundaries. The region's crime data also includes the Isle of Wight, which falls under the jurisdiction of  the Hampshire Constabulary.
Portsmouth and Southampton show the biggest activity for car crime, with the later having two of Hampshire's top three hotspots.
Southampton's SO14 district was the worst affected area for car crime, with 254 offences per 10,000 registered vehicles. Although this is well above the national average, it's worth noting that SO14 experiences a large influx of visitor traffic, with Southampton's football stadium located within its boundaries.
The second worst area for car crime in Southampton is SO17, with 195 car crime per 10,000 cars. SO17 features a number car concentration areas, with large residential areas and two university campuses located nearby.
Central Portsmouth also fared badly in the HonestJohn.co.uk Car Crime Census, with the city centre recording 213 car crimes per 10,000 registered vehicles. According to our heatmap, Fratton and Southsea show the mainstay of criminal activity, with side streets and open parking zones the most vulnerable.
The safest areas for car crime are found on the Isle of Wight; Bembridge reported just four car crimes per 10,000 vehicles in 2011-2012, while Totland Bay recorded 19 comparable offences. North Baddesley also showed low car crime, with 21 offences per 10,000 cars. 
See also: Top 10 Cars Stolen to order / Top 10 Most Stolen Cars / Crime homepage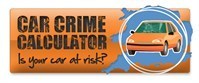 Crimes by postcode
Postcode District
Offences per 10,000
registered vehicles
SO14
254
PO1
213
SO17
195
SO15
184
PO5
158
SO16
141
PO3
126
SO19
123
PO2
119
PO12
118
PO9
116
SO42
115
SO18
102
RG21
97
PO4
96
SO43
91
GU12
75
SO40
73
GU14
70
SO23
69
RG22
68
RG24
67
PO16
66
SP6
65
SO45
64
SO20
63
PO8
62
PO13
62
SP10
62
BH24
59
SO31
59
SO30
58
BH25
58
GU32
56
PO34
55
PO6
53
GU35
53
PO36
52
GU17
51
RG20
51
PO7
50
PO10
49
PO37
49
RG27
48
SO21
48
SO50
47
PO32
47
RG25
45
PO31
45
SO22
44
SO51
42
PO14
42
SO41
41
GU34
41
PO30
40
GU46
40
PO33
38
PO17
38
SP11
37
GU51
37
GU10
34
GU33
34
PO41
33
GU31
33
GU26
33
RG29
32
SO24
30
PO38
30
RG23
29
GU52
29
RG28
29
RG26
28
PO11
28
SO53
27
PO15
27
PO40
23
SO32
22
GU30
22
GU11
22
SO52
21
PO39
19
PO35
4