Thames Valley Police 
The largest non-metropolitan police force in England and Wales, Thames Valley includes Oxford, Milton Keynes and Reading.
Overall car crime is marginally above the national average, with 141 offences per 10,000 registered vehicles. Theft from a motor vehicle makes up roughly half of all incidents, with criminal damage (39 per cent) and theft of a car (10 per cent) accounting for almost all other crimes.
The HonestJohn.co.uk Car Crime Census shows a number of crime hotspots, with Milton Keynes south being the worst region, with MK1 recording 385 offences per 10,000 cars. Reading also experienced a spike in incidents, with 334 comparative car crimes recorded. Woodstock in Oxfordshire was the safest area, with a mere nine incidents per 10,000 cars.
Mercedes-Benz and Mitsubishi proved to be the most targeted makes of car in 2011-2012, while Daihatsu and Jaguar proved to be the safest with 49 and 53 offences per 10,000 vehicles. 
See also: Top 10 Cars Stolen to order / Top 10 Most Stolen Cars / Crime homepage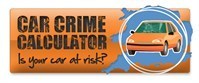 Crimes by type
Offence type
Offences per 10,000
registered vehicles
Theft from
68
Criminal Damage
55
Theft of
14
Interfering with
4
Total
141
Crimes by postcode
Postcode District
Offences per 10,000
registered vehicles
MK1
385
RG1
334
MK6
251
RG30
238
SL2
202
MK13
177
SL3
175
MK12
175
OX3
174
MK7
174
RG2
173
OX4
171
TW19
163
SL4
159
MK9
156
HP12
148
UB9
145
HP11
145
OX33
143
MK2
135
OX1
128
MK11
118
MK5
116
SL6
113
HP13
110
HP9
109
MK46
109
HP19
105
SL9
100
MK4
97
SL0
95
MK8
94
SL5
92
OX49
92
OX2
92
HP20
86
OX39
85
SL8
84
HP21
83
RG10
81
RG7
81
HP5
78
OX16
78
MK3
78
HP18
74
HP27
73
SL7
72
OX9
71
MK15
71
RG4
71
RG17
70
RG31
68
MK16
66
LU7
64
MK17
63
OX27
63
HP8
62
HP22
60
HP14
60
HP16
59
GU47
59
MK19
59
OX17
59
HP10
59
RG42
58
RG19
57
OX5
55
RG6
55
OX28
54
MK18
54
MK10
53
RG18
53
HP7
51
SL1
51
RG20
51
HP17
50
OX10
49
HP6
49
OX26
46
RG14
45
RG9
44
OX11
43
RG8
42
OX29
41
RG12
40
RG40
40
OX15
39
RG5
37
SN7
36
OX44
36
SN6
35
RG45
33
OX18
33
RG41
31
OX14
29
OX7
27
HP15
26
MK14
26
OX13
20
OX12
20
OX25
19
OX20
9