Bedfordshire Police
One of the smaller counties in our census, Bedfordshire covers just a handful of towns, with Bedford and Luton representing the largest areas of population.
Overall, Bedfordshire has one of the lowest rates of car crime in the country; however, this figure is heavily influenced by the fact that the county is in the middle of the commuter belt, with large swathes of the population migrating away from the area during the day, resulting in fewer registered vehicles.  
The worst area for crime in Bedfordshire is Luton, with more than 1200 reported incidents per 10,000 cars between 2011-2012. The worst district was LU1, which is located to the south of the town, while the area surrounding Dunstable also show extremely high levels of car crime.
Criminals targeted Vauxhalls the most, with 17 per 10,000 registered vehicles being targeted. Criminal damage represents 47 per cent of all car crime, while theft of a motor vehicle accounted for 25 per cent of all incidents. Kia and Rover were the safest overall vehicles, with zero reported incidents.
Rural districts represent the safest areas, with MK44 to the north of Bedford being the best with just 30 offences per 10,000 vehicles.
Detective Constable Michelle Sears of Bedford's vehicle crime unit said: "Over half the incidents of car crime are 'opportunistic' with thieves spotting something that could earn them a quick buck. 
"Vehicles with property on display are more likely to be broken into because thieves will risk setting off an alarm if there is an obvious pay-off.  Even an empty carrier bag or a coat on the back seat is attractive to a thief as it may contain items of value."
See also: Top 10 Cars Stolen to order / Top 10 Most Stolen Cars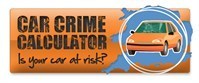 Crimes by type
Offence type
Offences per 10,000
registered vehicles
Criminal Damage
7
Theft of
4
Theft from
4
Interfering with
1
Total
16
Crimes by postcode
Postcode District
Offences per 10,000
registered vehicles
LU1
294
LU5
216
LU2
215
LU4
188
LU3
154
LU6
136
MK42
127
MK40
110
SG15
80
SG18
79
SG19
76
SG17
76
LU7
64
MK17
63
SG5
59
MK41
59
SG16
52
MK45
50
MK43
49
MK44
30