Hertfordshire Constabulary
Hertfordshire Constabulary covers a wide area, with London, Hatfield, Hemel Hempstead, Stevenage and Watford all located within its boundary.
Like Essex, Hertfordshire's crime is predominantly focused around London, with Waltham Cross topping the region's offence table with 197 offences per 10,000 cars. Northwood and Borehamwood also show increased criminality with 138 and 129 comparable offences. Our heat map also shows increased activity in Hatfield, Potters Bar and Watford.
Like Essex, car crime reduces as you travel away from London and the rural districts show consistently low offence rates. The safest area in Hertfordshire is in North Mymms, with just 40 offences.
The most targeted make of car in Hertfordshire is Mercedes-Benz, with 171 offences, while Mitsubishi (144 offences) and Suzuki (113 offences) were also targeted by criminals. Jaguar represents the safest make of car (20 offences) while Porsche (27 offences) and Skoda (29 offences) also rate highly.
Overall, Hertfordshire has a low rate of car crime, with an average of 81 offences per 10,000 cars reported in 2011-2012. Hertfordshire Constabulary also runs a number of high profile operations against known gangs and is committed to making sure that criminals pay for their actions by enforcing the Proceeds of Crime Act to strip them of any assets they've gained from stealing or breaking into cars. 
See also: Top 10 Cars Stolen to order / Top 10 Most Stolen Cars / Crime homepage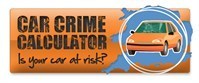 Crimes by type
Offence type
Offences per 10,000
registered vehicles
Theft from
68
Theft of
13
Criminal Damage
0
Other
0
Total
81
Crimes by postcode
Postcode District
Offences per 10,000
registered vehicles
EN8
197
HA6
138
WD6
129
HP2
127
EN6
116
EN11
116
WD24
109
AL10
105
SG13
105
HP23
104
WD17
102
EN10
99
SG1
92
EN7
91
SG12
90
HP1
90
AL1
84
AL8
83
WD4
83
WD25
82
AL5
82
SG6
80
WD23
80
CM23
79
HP4
79
AL3
72
SG14
72
SG3
71
WD19
69
HP3
68
WD18
65
SG10
65
AL2
65
CM21
64
WD3
64
SG7
61
AL7
60
SG9
60
SG5
59
SG4
59
WD5
56
SG11
54
SG2
51
WD7
51
SG8
51
AL6
50
AL4
48
AL9
40