Essex Police
Essex is one of the most diverse entries in the HonestJohn.co.uk Car Crime Census, with its borders starting in the Metropolis of London in the south and stretching to the rural districts of East Anglia in the north.
South Essex shows the most car crime, with all of the London districts showing a hive of hotspots. The worst affected regions are in West Thurrock, with RM20 and RM19 postcodes recording a huge 581 and 477 car crimes per 10,000 registered vehicles. Romford also shows a large number of car crimes, and the heat map doesn't diminish until you reach the outer limits of the M25.
However, away from London, there are still some significant areas of criminality, with Basildon and Southend-on-Sea both showing large hotspots for car crime. Like many regions in our census, theft from a motor vehicle accounts for roughly half of all offences, while cars being stolen account for 15 per cent of all incidents. Mercedes-Benz are most at risk, with 395 offences per 10,000 vehicles, while Fords were also targeted with 252 comparable crimes recorded.
The safest districts in Essex are in the rural north, with Frinton-on-Sea and Saffron Walden recording just 40 and 45 crimes per 10,000 cars. 
See also: Top 10 Cars Stolen to order / Top 10 Most Stolen Cars / Crime homepage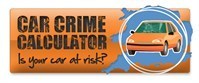 Crimes by type
Offence type
Offences per 10,000
registered vehicles
Theft from
100
Criminal Damage
65
Theft of
28
Total
193
Crimes by postcode
Postcode District
Offences per 10,000
registered vehicles
RM20
581
RM19
477
RM15
303
RM18
279
SS14
278
IG7
250
IG9
245
IG10
241
SS16
235
RM4
226
SS15
225
SS1
222
SS2
222
RM16
216
SS13
213
CM20
210
CM14
206
EN9
203
CM18
202
RM17
191
SS0
182
CO1
182
CM16
158
CM15
156
CM24
152
SS17
142
SS9
140
CM19
121
CM5
117
CO4
116
CM8
111
CO15
107
CM9
105
CM4
104
SS11
104
SS4
96
CM7
93
CM17
93
CM0
92
SS8
91
CO2
89
CM13
87
SS3
85
CM6
85
CO16
83
CM12
83
CM22
79
CM11
78
CO11
77
CM2
77
CO8
76
CO7
76
SS6
74
CO3
73
CM3
71
CM77
71
SS7
70
SS12
65
CM1
65
SS5
61
CB11
56
CO9
56
CO6
54
CO14
52
CO5
51
CO12
50
CB10
45
CO13
40