Metropolitan/City of London Police 
The HonestJohn.co.uk Car Crime Census includes data from both the Metropolitan and City of London Police forces.
As you would expect from city that's home to eight million people, car crime is widespread with a number of large hotspots. In fact, London's average crime rate exceeds the national average by more than 100 per cent, with 258 offences per 10,000 registered cars.
The biggest crime hotspot is found in EC2, which covers the north eastern corner of the capital, spanning Moorgate, Finsbury Circus and Liverpool Street. EC2 recorded 1228 car crime per 10,000 registered cars, although it's worth pointing out that 60,000 vehicles visit central London every day and EC2 is located at the very hub of this influx, with both the A10 and A11 concluding within its boundaries.
Covent Garden's WC2 also experienced a huge hike in car crime, with 1169 offences per 10,000 cars, while the neighbouring WC1 to the north recorded 1159 comparable incidents.
Theft from a motor vehicle accounts for 36 per cent of all car crime, while three out of 10 offences involve the theft of a vehicle. Criminal damage makes up 29 per cent of crimes.
Crime rates only decline as you travel into the outer suburbs of London and the safest district is in Uxbridge, with its UB11 postcode recording 68 offences per 10,000 registered cars. West Wickham was the second safest area, with 75 comparable offences taking place.  
See also: Top 10 Cars Stolen to order / Top 10 Most Stolen Cars / Crime homepage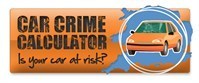 Crimes by type
Offence type
Offences per 10,000
registered vehicles
Theft from
93
Theft of
79
Criminal Damage
74
Interfering with
11
Other
0
Total
258
Crimes by postcode
Postcode District
Offences per 10,000
registered vehicles
EC2
1228
WC2
1169
WC1
1159
W1
1099
EC1
819
E9
793
E8
767
W6
746
SE8
730
N15
719
E2
713
E1
709
E5
692
N17
678
EC3
668
SW4
664
E6
627
SW8
615
E7
611
E12
609
N16
605
N1
603
E13
598
E15
597
E10
589
N18
580
W12
576
SE14
570
SE10
559
E11
557
E16
545
W4
544
SE15
542
IG11
542
N5
535
N19
534
N7
530
W2
526
E17
510
N4
509
SW13
509
DA18
502
IG1
501
W11
496
NW3
489
SW2
486
SW12
482
SW6
476
SE16
475
N6
474
NW6
474
N10
473
E3
469
W14
468
SW11
464
SE1
463
SW9
450
SW10
446
SE5
443
N22
443
N9
440
SE4
440
W9
435
W10
434
SW18
432
NW11
431
W3
428
E18
427
NW10
422
SE27
416
SE24
412
E14
406
IG3
404
SE26
403
SW7
403
SW17
400
SW3
399
SE21
398
IG4
396
W8
392
SW16
390
SE19
389
SE7
386
SE20
381
RM10
381
NW8
381
EC4
380
E4
374
UB2
374
N8
373
NW1
373
RM9
373
SW1
365
RM6
363
N11
362
SW15
358
SE11
350
IG8
347
SW5
346
SE17
343
N13
342
SE25
341
SE13
340
UB7
339
N3
327
EN3
327
NW2
324
UB6
323
UB3
323
CR7
321
RM8
321
W5
318
SE12
317
TW9
313
TW8
312
SE23
309
UB4
308
NW4
303
SE22
300
N2
298
NW5
297
N12
288
W13
285
CR0
284
IG2
278
SE2
277
SE6
274
TW5
271
RM13
267
UB5
267
SE28
263
SE3
262
SE9
261
EN1
261
SW14
260
W7
259
NW7
255
IG7
250
TW7
243
CR4
240
BR7
238
HA0
237
BR1
237
SE18
236
SM6
234
SW19
234
IG5
233
BR5
233
HA8
230
RM1
227
RM4
226
UB1
224
SW20
222
IG6
222
RM3
220
NW9
217
RM7
217
HA1
214
DA8
214
N21
212
SM5
205
TW3
205
RM12
204
HA7
203
SM3
203
TW6
200
TW13
198
N14
196
HA9
196
RM2
194
HA3
191
EN4
187
TW14
186
BR3
184
CR8
182
TW10
181
SM4
178
RM14
177
DA14
177
N20
177
KT1
175
TW4
170
RM11
168
SM1
166
EN5
162
DA1
162
HA2
159
RM5
154
KT3
152
TW1
148
CR2
147
UB9
145
DA17
140
HA4
138
HA6
138
TW2
136
HA5
136
KT2
129
BR2
126
EN2
123
DA15
119
UB10
119
SM2
119
TW11
118
TN16
118
DA5
117
DA6
115
CR5
114
KT5
113
KT4
103
BR6
102
DA16
97
TW12
85
DA7
82
UB8
78
KT6
77
KT9
77
BR4
75
UB11
68