Surrey Police
Surrey Police cover a large section of the south east, with its borders starting in London and encompassing Epsom, Guildford and Staines.
The worst area for car crime in Surrey is Staines, with the postcode TW19 recording 163 offences per 10,000 registered cars. However, Guildford equates to the national average, with the north of the town reporting 122 incidents of car crime per 10,000 cars in 2011-2012.   
Our crime shows crime is largely restricted to built-up areas, with small towns and villages showing low activity. Surrey's average car crime rate is 156 offences per 10,000 cars, with theft from a motor vehicle making up 43 per cent of all reported incidents. Criminal damage accounts for 41 per cent of all car crime, with one offence in 10 relating to the theft of a vehicle.
Cranleigh has the best rate of car crime in the whole of Surrey, with 22 offences per 10,000 cars; Godalming also boasts little in the way of vehicle crime, with 32 comparative incidents.
See also: Top 10 Cars Stolen to order / Top 10 Most Stolen Cars / Crime homepage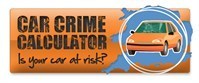 Crimes by type
Offence type
Offences per 10,000
registered vehicles
Theft from
68
Criminal Damage
65
Theft of
15
Interfering with
9
Total
156
Crimes by postcode
Postcode District
Offences per 10,000
registered vehicles
TW19
163
GU2
122
CR6
120
CR3
116
GU1
115
CR5
114
RH7
114
KT17
113
KT11
111
TW16
111
KT19
110
KT4
103
RH9
102
TW20
102
TW18
100
RH6
95
TW15
93
RH1
90
GU23
87
KT8
86
KT20
85
GU25
82
SM7
80
KT22
79
GU9
78
KT16
77
KT10
76
GU19
76
GU12
75
RH8
75
KT14
68
KT24
68
TW17
67
RH4
67
KT12
64
KT18
64
RH2
63
KT23
62
GU22
57
KT15
57
GU24
53
KT7
51
GU3
50
GU21
50
RH5
48
GU4
48
KT13
48
RH3
48
GU7
44
GU5
43
GU27
42
KT21
42
GU18
41
GU16
36
GU20
35
GU15
34
GU10
34
GU26
33
GU8
32
GU6
22