Kent Police
Kent is an unusual in that it's a large county with only one city, Canterbury. And compared to other cities in the UK, Canterbury is fairly small. It's also unusual that the city centre isn't the county's biggest hotspot. This becomes especially apparent when compared to neighbouring London, which has a full spectrum of colours in its hotspot.
Kent is made up of fairly large towns and villages surrounded by large swathes of countryside, particularly so towards the east. The biggest hotspots are all in the north of the county, stretching from Dartford to the Isle of Sheppy and taking in the Medway towns of Gillingham, Rochester and Chatham. That said, all of these hotspots are below the national average and not particularly concentrated. Many of the smaller towns in the county see very little car crime.
Other small hotspots include the coastal towns (particularly those that are ports), Ashford and the county town of Maidstone.
ME11 is notable as its fairly rural, yet includes a port with a major new car import centre.
This year Kent Police has issued specific warnings for Dover, Shepway and Ashford. It has wanred motorists in Kent not to leave valuables in your car or van, following a number of thefts in the Folkestone area:
"Twelve offences where thieves have smashed a window to break into people's cars and steal items have been reported. A number of items including handbags, hairdressing equipment, cash, CDs and GPS equipment have been stolen.
Chief Inspector Martin Bradley, Shepway District Commander said: 'It is very unusual to have so many thefts from motor vehicles in the Folkestone area, which is why I would like to highlight it so motorists are aware."
See also: Top 10 Cars Stolen to order / Top 10 Most Stolen Cars / Crime homepage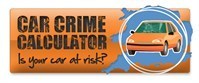 Crimes by type
Offence type
Offences per 10,000
registered vehicles
Criminal Damage
85
Theft from
71
Theft of
23
Other
8
Interfering with
7
Total
194
Crimes by postcode
Postcode District
Offences per 10,000
registered vehicles
ME4
240
DA9
227
DA10
185
BR8
183
ME7
181
ME11
169
DA1
162
CT1
152
CT20
150
DA12
148
ME1
147
CT16
143
DA11
142
CT9
140
DA4
131
ME18
131
CT11
130
DA2
130
ME10
120
TN16
118
CT12
116
CT10
111
ME2
109
CT19
108
ME9
106
TN23
105
ME5
105
DA3
101
TN24
98
CT6
97
CT17
97
ME14
96
ME12
95
ME13
92
TN14
87
CT2
87
ME20
85
TN15
85
ME8
83
ME6
80
CT5
75
TN9
75
ME15
75
TN25
74
TN1
73
CT15
72
CT14
72
TN8
71
CT8
71
TN11
69
TN13
68
ME16
66
CT4
66
CT13
65
CT3
63
DA13
63
TN27
62
TN10
61
TN2
60
CT7
59
ME17
58
TN12
55
TN4
53
ME19
51
ME3
46
TN29
46
TN26
46
TN3
46
CT21
44
TN17
43
TN30
37
TN18
36
TN28
34
CT18
33