Toyota
There were a few anomalies in the Toyota data – the Land Cruiser has been sold as Land Cruiser Amazon, Land Cruiser Colarado and plain Land Cruiser, which means the potential for mixed up entries in the data so we have combined all of them into one. Same goes for the Toyota Carina and Carina E – owners of the later, more common Carina E are unlikely to call their car anything other than Carina, sans E.  We've combined those models into 'Carina.'
We've also had to do that for Yaris Verso and Corolla Verso. The rest of the table is full of fairly typical - older models, vans and vehicles that are popular imports have above average crime rates while the newer cars do quite well, featuring in the top half of the table. 
See also: Top 10 Cars Stolen to order / Top 10 Most Stolen Cars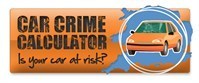 Crimes involving Toyota by type
Offence type
Offences per 10,000
registered vehicles
Criminal Damage
50
Theft from
48
Theft of
17
Interfering with
2
Other
0
Total
118
31.7% better than the national average.
Crimes involving Toyota by range
Range
Criminal Damage
Interfering with
Other
Theft from
Theft of
All offences
All figures are offences per 10,000 registered vehicles
Verso-S
0
0
0
0
0
0
Urban Cruiser
14
0
0
0
0
13
Auris
28
1
0
19
6
52
iQ
38
0
0
28
2
65
RAV4
31
1
0
30
6
67
Land Cruiser
17
1
0
36
13
68
Supra
23
4
0
26
26
78
Camry
24
0
0
29
29
81
Yaris
40
1
0
35
4
81
MR2
40
1
1
28
10
83
Aygo
37
3
0
43
5
85
Corolla
44
2
1
33
14
96
Celica
61
0
2
28
11
101
Prius
50
3
0
54
6
109
Dyna
11
17
0
73
17
111
Verso
78
1
0
43
2
118
Picnic
52
3
0
35
27
120
Avensis
69
2
0
51
11
132
Starlet
52
4
0
60
22
141
Carina
52
4
0
46
49
147
Hi-Lux
24
4
1
85
56
171
Hi-Ace
45
12
0
151
24
232
Previa
86
4
0
90
86
259