Daewoo
The Daewoo disappeared in the UK in 2005, magically becoming Chevrolets overnight. The result is a pool of older, less secure vehicles, but having said that the overall crime rate across all models is about average. This could simply be down to Daewoo models being fairly rare, not particularly valuable and not very desirable despite their vulnerability to criminals. 
See also: Top 10 Cars Stolen to order / Top 10 Most Stolen Cars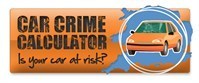 Crimes involving Daewoo by type
Offence type
Offences per 10,000
registered vehicles
Criminal Damage
69
Theft from
62
Theft of
21
Interfering with
3
Other
1
Total
156
9.4% better than the national average.
Crimes involving Daewoo by range
Range
Criminal Damage
Interfering with
Other
Theft from
Theft of
All offences
All figures are offences per 10,000 registered vehicles
Lacetti
12
0
0
24
6
39
Leganza
18
0
0
0
27
42
Kalos
29
0
0
24
7
56
Tacuma
19
2
2
21
12
66
Lanos
44
1
0
24
21
86
Nubira
66
0
0
28
17
103
Matiz
51
2
0
53
12
120