Daihatsu
With few Daihatsu models on the road there's not many to target. The relative crime rate for most models produced by Daihatsu - which no longer sells cars in the UK - is below average across the board. There's no surprise which vehicle does the worst – it's the Hijet, a small van. Nonetheless it's not too bad compared to other vans. 
See also: Top 10 Cars Stolen to order / Top 10 Most Stolen Cars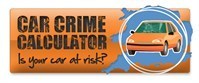 Crimes involving Daihatsu by type
Offence type
Offences per 10,000
registered vehicles
Criminal Damage
44
Theft from
43
Theft of
30
Interfering with
6
Other
1
Total
127
26.1% better than the national average.
Crimes involving Daihatsu by range
Range
Criminal Damage
Interfering with
Other
Theft from
Theft of
All offences
All figures are offences per 10,000 registered vehicles
YRV
19
0
0
6
6
30
Sirion
27
1
1
17
2
49
Terios
15
0
0
27
2
49
Grand Move
8
0
0
32
0
59
Copen
35
7
0
35
0
72
Fourtrak
11
7
0
12
44
79
Charade
43
2
2
41
11
97
Cuore
35
15
0
45
10
99
Sportrak
15
0
0
44
39
100
Hijet
25
6
0
47
44
116