Peugeot
The 208 only went on sale at the end of the period our data covers so its result isn't necessarily representative of how the car performs today. Crimes relating to 'Tepee' MPV variants of Peugeot vans have been grouped with their van counterparts because police forces and owners are more than likely to call a Bipper Tepee plain 'Bipper.' The result, until we grouped the two enties together, was an deflated crime rate for the Tepee models that wasn't representetive.  
Aside from that it's a pretty average performance for Peugeot, with a lot of older cars and vans at the bottom of the table. The 508, however, is worthy of note because it has a very low theft rate. 
See also: Top 10 Cars Stolen to order / Top 10 Most Stolen Cars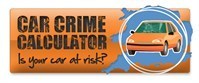 Crimes involving Peugeot by type
Offence type
Offences per 10,000
registered vehicles
Theft from
75
Criminal Damage
65
Theft of
20
Interfering with
5
Other
0
Total
165
4.3% better than the national average.
Crimes involving Peugeot by range
Range
Criminal Damage
Interfering with
Other
Theft from
Theft of
All offences
All figures are offences per 10,000 registered vehicles
208
9
2
0
3
2
14
4007
0
0
0
14
14
26
RCZ
21
3
0
10
5
39
5008
41
2
0
23
4
65
1007
12
0
0
48
14
69
508
40
4
0
34
0
76
3008
39
0
0
29
7
76
107
39
3
0
36
7
87
207
45
1
1
34
7
88
308
44
1
1
39
8
90
407
42
0
1
43
9
94
Bipper
22
9
1
67
7
102
307
55
2
1
45
12
114
205
35
10
0
51
34
138
607
65
0
0
37
41
139
405
51
5
0
51
33
142
Partner
33
10
1
89
12
143
406
51
3
1
77
19
150
807
49
2
2
91
15
153
206
66
5
0
79
12
162
806
77
7
0
70
11
164
306
69
5
0
76
21
177
Boxer
21
10
1
134
15
179
309
113
0
0
56
31
186
106
76
5
1
83
17
188
Expert
41
15
1
136
11
199