Smart
You're not going to find many Smart models in rural areas, which typically have low crime rates, so you'd expect an above average rate of crimes for Smart models because they tend to sit in urban streets. It's not the case, though. The crime rate is low across all models of Smart - but it's a fairly young car brand with no poorly secured 80s and early 90s around.
See also: Top 10 Cars Stolen to order / Top 10 Most Stolen Cars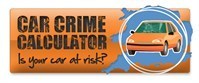 Crimes involving smart by type
Offence type
Offences per 10,000
registered vehicles
Theft from
49
Criminal Damage
47
Theft of
17
Interfering with
3
Other
1
Total
111
35.7% better than the national average.
Crimes involving smart by range
Range
Criminal Damage
Interfering with
Other
Theft from
Theft of
All offences
All figures are offences per 10,000 registered vehicles
Roadster-Coupe
9
0
0
19
0
27
fortwo
13
0
0
17
8
36
forfour
16
2
2
14
5
36
City
22
0
0
16
6
41
Roadster
33
0
0
27
7
62