Lexus
Lexus is a relatively young brand and it produces luxury cars, both factors which are in its favour – there are no old cars that are easy to steal or break into and the newer models have a good level of security equipment as standard. The LS, at the bottom of the table, is Lexus' oldest model and it's still got a lower than average crime rate. 
See also: Top 10 Cars Stolen to order / Top 10 Most Stolen Cars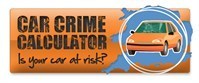 Crimes involving Lexus by type
Offence type
Offences per 10,000
registered vehicles
Criminal Damage
41
Theft from
36
Theft of
12
Interfering with
2
Other
0
Total
91
47.0% better than the national average.
Crimes involving Lexus by range
Range
Criminal Damage
Interfering with
Other
Theft from
Theft of
All offences
All figures are offences per 10,000 registered vehicles
SC
17
0
0
6
6
39
GS
19
1
0
18
7
43
IS
24
0
0
18
8
53
RX
23
2
0
23
8
55
LS
34
0
0
19
10
62