MINI
The MINI table is a tricky one. The various different models and marques that have worn Mini or MINI badges can be called various things by their owners or by police officers. A modern MINI John Cooper Works could simply be called a MINI Cooper, as could a Cooper S, or a Coupe Cooper, or a Roadster Cooper.
However while it is tricky to analyse MINI models individually, it's fair to look at the brand as a whole – and it comes out with a below average crime rate. 
See also: Top 10 Cars Stolen to order / Top 10 Most Stolen Cars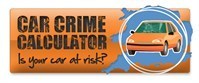 Crimes involving MINI by type
Offence type
Offences per 10,000
registered vehicles
Criminal Damage
53
Theft from
42
Theft of
12
Interfering with
2
Other
1
Total
109
37.0% better than the national average.
Crimes involving MINI by range
Range
Criminal Damage
Interfering with
Other
Theft from
Theft of
All offences
All figures are offences per 10,000 registered vehicles
John Cooper Works
0
0
0
0
0
0
Cooper Clubman
3
0
1
5
1
11
Countryman
14
0
0
14
1
27
Cooper S
12
1
1
12
5
30
One
33
1
0
24
6
63
1000
14
3
1
23
22
65
Clubman
24
0
0
43
9
72
Cooper
57
2
1
46
11
116