Kia
Much like Hyundai, Kia didn't start to sell a large volume of cars until around 2008. There are still plenty of old Kias though, and the they push the brands' overall crime rate up a little. The Sedona, an MPV, and the Pride are at the bottom of the table and the latter has a slightly above average crime rate - but they're both older and aren't around in large numbers anyway.
See also: Top 10 Cars Stolen to order / Top 10 Most Stolen Cars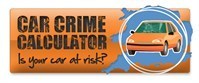 Crimes involving Kia by type
Offence type
Offences per 10,000
registered vehicles
Criminal Damage
50
Theft from
47
Theft of
7
Interfering with
2
Other
1
Total
104
39.5% better than the national average.
Crimes involving Kia by range
Range
Criminal Damage
Interfering with
Other
Theft from
Theft of
All offences
All figures are offences per 10,000 registered vehicles
Venga
27
1
1
13
1
41
Cerato
36
0
0
10
10
52
Cee'd
29
0
0
30
5
65
Sorento
23
2
0
43
4
72
Soul
53
2
0
24
6
80
Rio
41
2
1
33
4
80
Picanto
47
2
1
31
2
80
Sportage
31
1
1
54
5
89
Magentis
77
0
0
17
9
95
Carens
42
2
2
52
6
99
Shuma
46
0
0
61
20
133
Sedona
63
2
0
69
19
149
Pride
73
0
0
42
52
183