Mercedes-Benz
Mercedes-Benz does worse than average as a brand, but those who own Mercedes-Benz cars needn't panic. The five models at the bottom of the table are all vans, and any vehicles above those in the table have below average scores. The Sprinter is the more common van model produced by Mercedes-Benz and it's at the top of the table – with plenty around it makes rich pickings for lawbreakers.
See also: Top 10 Cars Stolen to order / Top 10 Most Stolen Cars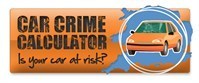 Crimes involving Mercedes-Benz by type
Offence type
Offences per 10,000
registered vehicles
Theft from
122
Criminal Damage
57
Theft of
39
Interfering with
5
Other
1
Total
222
28.5% worse than the national average.
Crimes involving Mercedes-Benz by range
Range
Criminal Damage
Interfering with
Other
Theft from
Theft of
All offences
All figures are offences per 10,000 registered vehicles
SL
7
1
0
9
4
20
R-Class
19
5
5
23
5
53
GL-Class
25
0
0
32
0
54
B-Class
25
1
1
26
4
56
SL-Class
31
2
0
20
13
63
SLK
33
0
1
21
7
63
CLS
32
0
3
25
20
77
C-Class
32
1
1
32
13
77
S-Class
39
0
0
31
12
80
Bremen Van
4
2
0
10
70
90
E-Class
37
1
1
38
18
93
A-Class
44
1
0
38
12
93
CLK
44
1
1
34
16
95
CL
49
3
0
33
13
97
190
38
1
1
41
24
104
M-Class
43
1
2
61
26
129
V-Class
52
6
0
58
23
138
Vaneo
37
0
0
126
15
169
Viano
64
10
0
111
13
188
Vito
53
18
1
180
16
267
Sprinter
45
12
1
365
128
542