Vauxhall
It's possible that the entries for Astravan and Corsavan are a little bit off because they're car based vans, and consequently crimes related to them could be recorded against Astra or Corsa in this table. Astra TwinTop and Astra GTC entries have been combined with the rest of the Astra range in this list. 
Those models aside everything is as you'd expect - Vauxhall's performance is almost exactly average, with vans at the bottom of the table thanks to high crime rates. If you removed the vans from this list Vauxhall's performance would probably be better than average. 
See also: Top 10 Cars Stolen to order / Top 10 Most Stolen Cars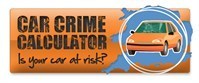 Crimes involving Vauxhall by type
Offence type
Offences per 10,000
registered vehicles
Criminal Damage
71
Theft from
68
Theft of
19
Interfering with
4
Other
1
Total
164
5.0% better than the national average.
Crimes involving Vauxhall by range
Range
Criminal Damage
Interfering with
Other
Theft from
Theft of
All offences
All figures are offences per 10,000 registered vehicles
Corsavan
5
0
0
16
7
26
Antara
17
0
0
13
2
31
Agila
35
1
0
21
3
61
Astravan
14
4
1
40
5
73
Meriva
41
1
1
24
9
75
Calibra
36
0
0
21
5
77
Signum
44
0
4
34
10
92
Omega
64
1
0
29
19
115
Insignia
51
1
3
54
11
118
Frontera
44
5
0
39
25
121
Corsa
61
4
1
47
16
133
Vectra
66
2
1
53
18
142
Astra
71
3
1
63
18
156
Zafira
76
3
1
75
12
163
Combo
36
10
1
105
15
164
Tigra
102
1
1
53
17
179
Movano
33
8
1
130
22
195
Carlton
53
32
0
42
85
206
Vivaro
42
12
1
150
20
221
Cavalier
68
25
1
47
95
235
Nova
81
20
0
61
98
267