Vauxhall Insignia Sports Tourer (2017 – 2020) Review
Vauxhall Insignia Sports Tourer (2017 – 2020) At A Glance
The Vauxhall Insignia Sports Tourer is the big estate spin-off of the regular Insignia, designed to compete with big rivals like the Ford Mondeo, Skoda Superb and Volkswagen Passat. It's large inside, comfortable and as is generally the way with Vauxhalls, pretty good value for money too. It's not the best to drive in the class, nor does it have the best interior, but there's not a great deal wrong with it either, so if you can get a good deal it makes sense as a good value load carrier.
If you're looking for load space, the Vauxhall Insignia is easily one of the best family estate cars around. Plus it's relaxed and comfortable to drive with enough space for adults in the back. The engine range isn't all that impressive and the interior could use better materials – but there's still a lot to like.
The boot is obviously the most important bit of any estate and, on that front, the Insignia is great. The load capacity may trail behind estate versions of the Skoda Superb and Volkswagen Passat, but at 560 litres it is larger than a Ford Mondeo Estate and a significant step up over the outgoing model.
Getting awkward items like pushchairs in and out is easy since the load deck is low, wide and long, plus there is no load lip. If you need a little more space, one touch buttons flip the rear seats down almost completely flat, freeing up a huge 1665 litres of capacity. Garden centre trips and flat packs won't be a problem.
As is typical for Vauxhall, the engine range is very broad. There are petrol engines with 140PS, 165PS or 260PS, along with diesels producing 110PS, 136PS, and 170PS. Since most Insignias end up as company cars, the 110PS and 136PS diesels will make the most sense because they have the lowest emissions.
The drive isn't particularly fun, but it is quiet and relaxed. Not much wind or engine noise gets into the cabin even at motorway speeds and bumps are ironed out well. Yet through corners the Insignia Sports Tourer is reassuringly capable and has plenty of grip. And, if you need even more traction, you can get a 4x4 version.
Equipment levels are reasonable across the almost bewildering array of trim levels. All versions come with a touchscreen, air conditioning and cruise control, while navigation is standard on most trim levels. There are lots of safety gizmos on offer too including adaptive cruise control and lane assistance.
The Skoda Superb is more spacious, better to drive and has a much better interior finish. But for outright space the new Insignia Sports Tourer is excellent – and when you consider its extremely competitive pricing it starts to look like very good value for money, despite a few small flaws.
What do owners think of the Vauxhall Insignia Sports Tourer (2017 – 2020)? Check out our
Owners' Reviews
from people who live with the car day in, day out.
Reviews for Vauxhall Insignia Sports Tourer (2017 – 2020)'s top 3 rivals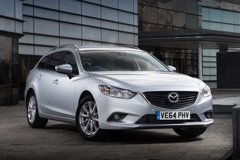 Mazda 6 Tourer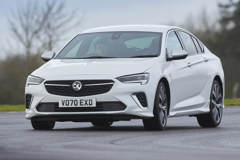 Vauxhall Insignia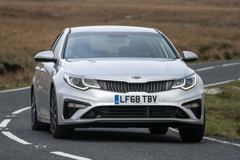 Kia Optima
Ask Honest John
Should I buy as Audi A4 Avant or a Vauxhall Insignia Sports Tourer?
"I am going to be in the market for an estate car in the next few months and have been looking at the Audi A4 Avant 1.4 TFSI and the higher trim Vauxhall Insignia Sports Tourer from 2017 onwards with the 1.5-litre petrol engine. Would you lean more towards one or the other or are there any others worth considering? I don't think we will be doing enough miles to make a diesel worthwhile. "
I'd go for the Audi because it's better in almost every measurable way, although you will pay a slight premium. Stick to smaller wheels and the Audi is more comfortable, quieter and should also be better on fuel. It's not quite as roomy as the Vauxhall, so if that matters I'd have a look at the Skoda Superb estate. It's huge inside and shares many parts with the A4, so the cars feel surprisingly similar to use. You can read our reviews of all three cars, below. Audi: https://www.honestjohn.co.uk/carbycar/audi/a4-b9-avant-2015/ Vauxhall: https://www.honestjohn.co.uk/carbycar/vauxhall/insignia-sports-tourer-2017/ Skoda: https://www.honestjohn.co.uk/carbycar/skoda/superb-estate-2015/
Answered by
Russell Campbell
Which cars have a low boot lip and enough space for a big old dog?
"I have a big dog (a 10-stone Leonberger) and we're expecting it to have rear leg problems in later life. I'm looking for a reliable car with a low boot lip and a big enough cargo space to accommodate the donkey dog. What would you recommend? Our budget is around £11,000."
We'd recommend a Skoda Superb Estate. You'll be able to get the latest (2015-) model within budget – it's simply huge and has that all-important low boot lip. Alternatively, a Vauxhall Insignia Sports Tourer is similarly cavernous and represents good value for money.
What's the most comfortable, economical commuter car for a tall driver?
"I'm looking for a comfortable, reliable, economical commuter car to cover 25,000 miles per year. I currently own a 2009 Citroen C5 2.0-litre auto diesel. This gives me 35-40mpg so not great! But I'm 6'4'' and find it very comfortable. Recent cambelt change but now suffering ongoing electrical issues. I need something reliable so looking to change. I'm keen on an auto with a budget of £10-12k. I have looked at your answers to similar questions and a Honda Civic could be a good bet, but there don't seem to be many autos about. Hyundai i30 perhaps a bit small. I was also looking at the Kia Sportage and Nissan Qashqai for the taller seating position. Many thanks."
How about a Vauxhall Insignia? It's not a fashionable choice but it's very comfortable and the ideal tool for covering 25k miles a year. Your budget will get you the latest model, launched in 2017, with the frugal 1.6 CDTi diesel engine (or slightly punchier 2.0-litre unit, if you're willing to sacrifice a bit of fuel economy). We'd recommend a Skoda Superb, too – it's got a modern interior, will be cheap to run and it's very spacious.
What estate cars have a large, long boot when the seats are folded flat or removed?
"What estate cars have a large, long boot when the seats are folded flat or removed? "
Estate versions of the Mazda 6, Vauxhall Insignia, Ford Mondeo and Skoda Superb all have huge boots with the rear seats dropped.
More Questions
What does a Vauxhall Insignia Sports Tourer (2017 – 2020) cost?