Honda
You could say Honda produces 'long-life' cars. Its vehicles have a reputation for reliability and older examples are fairly common because they last so well. Sadly the older the car the more vulnerable it is, generally speaking. The bottom of the table reflects this, with vehicles like the Concerto and Shuttle, along with the import only Integra. Cars produced for the Japanese market typically have poorer security than those produced for the European market.
See also: Top 10 Cars Stolen to order / Top 10 Most Stolen Cars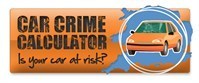 Crimes involving Honda by type
Offence type
Offences per 10,000
registered vehicles
Theft of
62
Criminal Damage
43
Theft from
38
Interfering with
3
Other
1
Total
146
15.4% better than the national average.
Crimes involving Honda by range
Range
Criminal Damage
Interfering with
Other
Theft from
Theft of
All offences
All figures are offences per 10,000 registered vehicles
CR-Z
9
0
0
13
0
20
FR-V
10
0
0
9
3
21
Logo
14
0
0
22
0
34
Jazz
25
1
0
19
3
48
S2000
16
0
0
23
16
54
CR-V
25
1
0
29
3
58
Insight
27
0
2
22
8
59
Stream
32
4
0
24
0
64
Civic
45
2
1
38
15
101
Accord
45
2
0
40
15
101
Prelude
47
5
0
16
37
109
Integra
79
0
0
18
18
117
Shuttle
84
18
0
60
12
181
Concerto
55
27
0
27
73
190