Land Rover
The Range Rover Sport has the highest crime rate for Land Rover/Range Rover models, followed by the Discovery on which it's based. Most of the crime cases relating to them are 'theft from,' and this is possibly attributable to vulnerable and fairly valuable spare wheels mounted under the rear of the car, which are easy to steal and easy to sell on. 
The Evoque's low crime rate shouldn't be read into too deeply – our data covers the period during which it was newly introduced, so there were very few around – though it is a new car and so should be fairly well protected. The numerous Defender models - 110, 90, etc. - have been combined into the category of plain 'Defender' to give a clearer picture.  
See also: Top 10 Cars Stolen to order / Top 10 Most Stolen Cars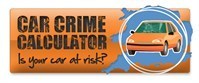 Crimes involving Land Rover by type
Offence type
Offences per 10,000
registered vehicles
Theft from
64
Criminal Damage
42
Theft of
35
Interfering with
4
Other
1
Total
145
15.7% better than the national average.
Crimes involving Land Rover by range
Range
Criminal Damage
Interfering with
Other
Theft from
Theft of
All offences
All figures are offences per 10,000 registered vehicles
Range Rover Evoque
1
1
0
0
0
3
Defender
4
2
0
9
22
37
Freelander
33
1
0
41
11
88
Range Rover
44
2
2
63
24
130
Discovery
37
2
1
66
23
131
Range Rover Sport
58
4
0
139
12
236