Chevrolet
Chevrolet models only arrived in the UK in real numbers when the brand took the place of Daewoo during the mid-2000s, by which time car security systems were improving. That means the crime rate is lower than average for pretty much every model across all types of crime. That's good news for Chevrolet owners or potential buyers. For a little context, click to see Daewoo, which is what Chevrolet was called before 2005. 
See also: Top 10 Cars Stolen to order / Top 10 Most Stolen Cars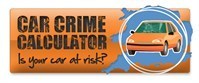 Crimes involving Chevrolet by type
Offence type
Offences per 10,000
registered vehicles
Criminal Damage
53
Theft from
41
Theft of
9
Interfering with
2
Other
1
Total
103
40.4% better than the national average.
Crimes involving Chevrolet by range
Range
Criminal Damage
Interfering with
Other
Theft from
Theft of
All offences
All figures are offences per 10,000 registered vehicles
Aveo
18
1
1
15
1
33
Cruze
24
3
0
10
7
40
Spark
25
1
0
35
1
58
Corvette
53
0
0
0
11
58
Orlando
41
0
0
18
9
63
Tacuma
35
0
3
27
5
67
Matiz
39
1
0
23
9
67
Kalos
34
1
1
27
4
70
Captiva
32
0
2
42
4
75
Lacetti
38
4
3
46
9
93