BMW
BMW had a significant security problem with some of its models produced between 2007 and 2011, which made them fairly easy to steal for high-tech criminals armed with the right electronic gadgets. Our data shows a higher than average rate of thefts for quite a few BMW models. The problem has been rectified in new BMW models and those with at-risk vehicles can have a security update applied free of charge at their local dealership. This is the likely explanation as to why the X6 sees such a high crime rate.
It's not all bad news for BMW, though – if you take all the types of crime across the board for all models the mean average comes out at slightly better than the average overall crime rate for all models – most BMWs have good alarm systems, which are enough to deter opportunists who want to take sat navs and other valuables. 
See also: Top 10 Cars Stolen to order / Top 10 Most Stolen Cars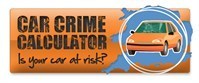 Crimes involving BMW by type
Offence type
Offences per 10,000
registered vehicles
Criminal Damage
54
Theft from
50
Theft of
38
Interfering with
3
Other
1
Total
145
16.0% better than the national average.
Crimes involving BMW by range
Range
Criminal Damage
Interfering with
Other
Theft from
Theft of
All offences
All figures are offences per 10,000 registered vehicles
8-Series
12
0
0
6
6
23
X1
13
1
1
15
11
38
Z4
28
2
0
14
6
49
Z3
30
1
1
17
5
52
X3
20
1
1
27
5
53
1-Series
25
1
1
29
13
69
5-Series
26
3
1
27
26
81
3-Series
39
2
1
31
20
92
6-Series
35
1
0
24
37
95
5-Series M5
23
5
3
21
54
103
7-Series
35
4
0
47
30
112
3-Series M3
29
7
1
30
67
135
X5
39
5
0
49
51
141
X6
37
29
4
35
183
277