Subaru
Most of Subaru's model range is popular with rural buyers who need something rugged and capable to cope with poor weather and rougher terrain. With low rural crime rates there's a fairly low offence rate for Subaru models. The Impreza is a bit more mainstream, however, and has a higher crime rate than other Subaru models – but it's still not particularly high. 
See also: Top 10 Cars Stolen to order / Top 10 Most Stolen Cars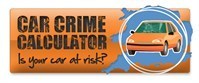 Crimes involving Subaru by type
Offence type
Offences per 10,000
registered vehicles
Criminal Damage
50
Theft from
26
Theft of
20
Interfering with
2
Other
1
Total
104
39.5% better than the national average.
Crimes involving Subaru by range
Range
Criminal Damage
Interfering with
Other
Theft from
Theft of
All offences
All figures are offences per 10,000 registered vehicles
Outback
12
0
0
14
2
27
Justy
6
0
0
6
6
28
Forester
16
1
0
16
4
36
Legacy
14
1
0
23
13
54
Impreza
47
2
1
19
21
95