Proton
Going into too much detail with Proton models isn't particularly useful – there are so few Proton models on the road that the rate per 10,000 cars is easily skewed. Taking that brand as a whole, however, reveals a very average rate of crime.
See also: Top 10 Cars Stolen to order / Top 10 Most Stolen Cars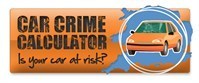 Crimes involving Proton by type
Offence type
Offences per 10,000
registered vehicles
Criminal Damage
87
Theft from
44
Theft of
27
Interfering with
6
Other
1
Total
171
1.0% better than the national average.
Crimes involving Proton by range
Range
Criminal Damage
Interfering with
Other
Theft from
Theft of
All offences
All figures are offences per 10,000 registered vehicles
Jumbuck
9
9
0
0
0
17
GEN-2
0
0
0
6
13
24
Savvy
14
0
0
5
9
35
Satria
58
0
0
19
6
79
Persona
41
4
0
41
20
104
Saga
21
11
0
32
53
109
Wira
74
5
5
35
10
125
Impian
143
0
0
15
0
156