Suffolk
 Constabulary
One of the most rural districts to feature in the HonestJohn.co.uk Car Crime Census, Suffolk is predominatly made up of small villages and market towns, with Busy St Edmunds, Ipswich and Lowestoft representing the largest concentration of vehicles.
The average offence rate for Suffolk is above the national average, with 153 crimes per 10,000 registered cars. Ipswich makes up the majority of the region's car crime, with the town's IP1 and IP2 postcodes recording 177 and 175 comparative offences each. The third worst postcode in Suffolk is found to the east of Ipswich, with IP10 reporting 159 offences per 10,000 vehicles. But these results come as no surprise as they're town centre locations and will see a large proportion of passing traffic.
Theft from a motor vehicle and criminal damage makes up 88 per cent of all car crimes, while less than 10 per cent of incidents involve a car being stolen.
The small town of Southwold is Suffolk's safest area for car crime, with just 27 offences reported in 2011-2012. Nearby Halesworth also showed a low rate of vehicle offences, with 31 crimes.
See also: Top 10 Cars Stolen to order / Top 10 Most Stolen Cars / Crime homepage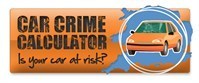 Crimes by type
Offence type
Offences per 10,000
registered vehicles
Criminal Damage
68
Theft from
67
Theft of
14
Interfering with
4
Total
153
Crimes by postcode
Postcode District
Offences per 10,000
registered vehicles
IP1
177
IP2
175
IP10
159
CB9
142
IP3
123
IP15
119
IP4
111
IP8
101
IP28
94
IP6
92
IP11
91
IP32
87
CB8
82
IP27
81
CO10
80
CO8
76
IP33
68
NR32
67
IP9
64
IP14
63
NR35
58
IP23
57
IP17
51
IP30
51
IP7
47
NR33
46
NR34
45
IP31
44
IP12
40
IP20
39
IP22
39
IP5
37
IP16
35
IP13
35
IP21
35
IP29
34
IP19
31
IP18
27