Cambridgeshire Constabulary
Car crime in Cambridgeshire is isolated and sporadic, which reflects the rural nature of this fenland county.
The largest concentration of vehicle crime is found in Peterborough, with the PE1 postcode showing the biggest hotspot, with 275 offences per 10,000 registered vehicles. In fact, Peterborough rates among the highest in Cambridgeshire for car crime, holding seven of the region's top 10 crime hotspots with a total of 1075 recorded incidents in 2011-2012.
The second worst area in CB5 is Cambridge with 168 crimes; it's worth noting that this figure is somewhat inflated due to the fact it houses the city's car dealer district. Indeed, thousands of new and used cars are parked in CB5, which makes it a hotspot for vehicle crime, with opportunistic criminals looking to take advantage of the huge concentration of cars.
Theft from a motor vehicle accounts for 47 per cent of Cambridgeshire's crime, while criminal damage makes up 39 per cent of all offences. Just 13 per cent of incidents involved a car being stolen.
Being a rural area, Cambridgeshire has a lot of 4x4s, which partly explains why Mitsubishi is the most stolen make of vehicle, with 277 reported offences per 10,000 vehicles. Mercedes-Benz was the second most targeted by criminals, while Volvo also rates highly with 188 comparable offences. 
A police spokesman for Cambridgeshire said: "We take vehicle crime very seriously and are committed to catching those who commit such offences.
"Car thieves are often opportunistic, breaking into a vehicle if they see a mobile phone or laptop on show. An empty case or vacant sat nav holder can be enough to tempt a thief - even if nothing is taken the victim will be left with the bill to repair the damage."
See also: Top 10 Cars Stolen to order / Top 10 Most Stolen Cars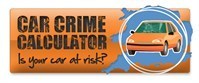 Crimes by type
Offence type
Offences per 10,000
registered vehicles
Theft from
76
Criminal Damage
64
Theft of
22
Other
1
Total
163
Crimes by postcode
Postcode District
Offences per 10,000
registered vehicles
PE1
275
CB5
168
PE2
168
PE3
159
PE5
158
CB4
123
PE7
108
CB1
106
PE4
105
PE8
102
PE13
86
CB8
82
CB3
80
PE26
80
PE27
79
CB2
77
SG19
76
CB21
74
CB25
72
PE6
70
CB24
69
CB7
66
CB22
65
PE29
64
PE19
63
PE28
61
CB6
61
PE14
59
CB23
53
SG8
51
PE16
50
PE15
44