Northamptonshire Police
Situated in the heart of the midlands, Northamptonshire covers a mixture of towns and villages. The largest concentration of cars can be found in Northampton, while Corby, Kettering and Wellingborough also show high levels of car registrations.
Northamptonshire's average crime rate is high, with 229 offences per 10,000 cars and the county town of Northampton accounts for a lot of offences. Postcode NN1 recorded 359 comparable car crimes, with the streets surrounding Wellingborough Road accounting for the mainstay of incidents. Other hotspots in Northampton include Kingsthorpe (217 offences) and the area surrounding Eastfield Park, with 174 recorded incidents per 10,000 cars.
Our heatmap also shows Kettering to have a significant problem, with 169 comparable offences recorded, while the safest areas is Market Harborough, which witnessed just 59 incidents per 10,000 cars.
More than 400 incidents involved a Mitsubishi of some kind, while Mercedes-Benz accounted for 305 crimes. The least targeted vehicle was MG, with a mere eight offences. 
See also: Top 10 Cars Stolen to order / Top 10 Most Stolen Cars / Crime homepage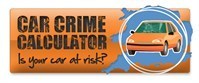 Crimes by type
Offence type
Offences per 10,000
registered vehicles
Theft from
98
Criminal Damage
96
Theft of
36
Total
229
Crimes by postcode
Postcode District
Offences per 10,000
registered vehicles
NN1
359
NN2
217
NN3
174
NN16
169
NN5
169
NN8
159
NN4
142
NN18
124
NN17
114
NN11
113
NN7
112
NN10
110
NN6
109
PE8
102
NN9
70
NN15
69
NN14
69
NN13
69
NN29
65
MK19
59
OX17
59
NN12
59
LE16
59