Norfolk Constabulary 
Covering more than 5000 square miles, Norfolk spans a huge district that borders Lincolnshire, Cambridgeshire and Suffolk. The primary city is Norwich, although the county also includes Downham Market, Great Yarmouth, King's Lynn and Thetford.
Unlike many rural districts in the HonestJohn.co.uk Car Crime Census, Norfolk's offence rate isn't influenced by any significant hotspots. In fact, overall crime is extremely low, with 112 offences per 10,000 registered cars.
The biggest crime hotspot in the country is PE35 in Sandringham, with 147 comparable offences. Although this is a somewhat rural area, the postcode is home to the Sandringham Estate, which hosts a number of large events every year. PE35 also has a range of camping and caravanning centres, which again attract a large number of visiting vehicles.
Other areas of crime are in Norwich, with the city's NR5 and NR3 postcodes recording 141 and 139 crimes per 10,000 cars. The safest place in Norfolk for car crime is Attleborough; the sleepy market town recorded just 10 comparable car crimes in 2011-2012.
According to police data, Mitsubishi, Fiat and Mercedes-Benz are the most targeted vehicles, while Hyundai and Jaguar show the least number of offences.
Criminal damage and theft from a motor vehicle make up 88 per cent of all crime in Norfolk and the region's constabulary is now making a focused effort to tackle the problem.
Broadland and North Norfolk Policing Commander, Superintendent Stuart Gunn, said: "This is a seasonal crime which we start to see an increase of when the good weather appears and people start parking their cars in rural beauty spots. Victims in these cases are often local so it's not just tourists who are affected by these kinds of crime."
See also: Top 10 Cars Stolen to order / Top 10 Most Stolen Cars / Crime homepage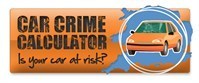 Crimes by type
Offence type
Offences per 10,000
registered vehicles
Criminal Damage
58
Theft from
41
Theft of
14
Total
112
Crimes by postcode
Postcode District
Offences per 10,000
registered vehicles
PE35
147
NR5
141
NR3
139
NR30
130
NR2
125
NR1
104
NR4
85
IP26
84
PE36
63
NR14
61
NR6
60
PE14
59
NR35
58
IP24
58
PE38
55
PE30
53
NR29
52
NR22
48
NR9
46
NR31
43
NR19
43
IP20
39
IP22
39
NR7
36
PE31
36
NR13
36
NR12
35
IP21
35
PE33
32
NR24
32
PE32
32
PE37
31
NR16
30
NR27
29
PE34
26
NR8
25
NR25
24
IP25
24
NR23
23
NR20
22
NR15
22
NR18
22
NR10
22
NR28
19
NR21
17
NR26
13
NR11
12
NR17
10